For questions about educational events and opportunities, email contact@donaldpark.org.
For more educational information about Donald Park, please visit our History page.
Environmental Education – Children      
Mary is one of The Friends of Donald Park education liaisons and the leader for the school field trips. She has worked with Mount Horeb's third-grade teachers to present a spring and fall field trip to Donald Park for the students.
Over the last 12 years, the Friends group has developed a program that includes seed collection in late October and a four-part program in late May, which includes poetry writing in a natural setting, pond/stream study, study of the bluebird project in the prairies, and a woodland hike. We have volunteers from the Friends group; the Mound Vue Garden Club; Wayne Pauly, Naturalist with Dane County Parks; and other local area naturalists to direct groups of students while sharing their love of nature.
This group of volunteers has also worked with the Ecology Club at the high school, home-schooled student groups, and other groups (4-H, groups fulfilling community service requirements, Boy Scouts and Girl Scouts) who want to learn more about Donald Park's natural environment.
We always need more volunteers to help with these programs. We welcome anyone with an interest in nature and a passion for sharing it with children.
See more photos of students' field trips here.
Astronomy Nights — Star Gazing Events      
The Madison Astronomical Society members bring their telescopes and shares their love of astronomy, giving us all the opportunity to view the park's fabulous night sky and learn about the wonders of planets and stars.  Check out the Discovery Astronomy bag at the Mount Horeb Library and then come to a star gazing event.
Educational Discovery Bags      
A group of The Friends of Donald Park volunteers put together Discovery Bags that can be checked out of the Mount Horeb Library with your library card.  There are two Discovery Bird Bags and a Discovery Astronomy bag. The bags are filled with educational materials for hands on learning and fun.
Lending Library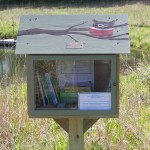 There is a Lending Library at the park by Larson's Pond.  You will find guide books about birds, plants, trees, insects, animals etc., along with nature poetry and stories.   You are welcome to borrow the books while you are at Donald Park, but please return them so others can use them too.
More Info