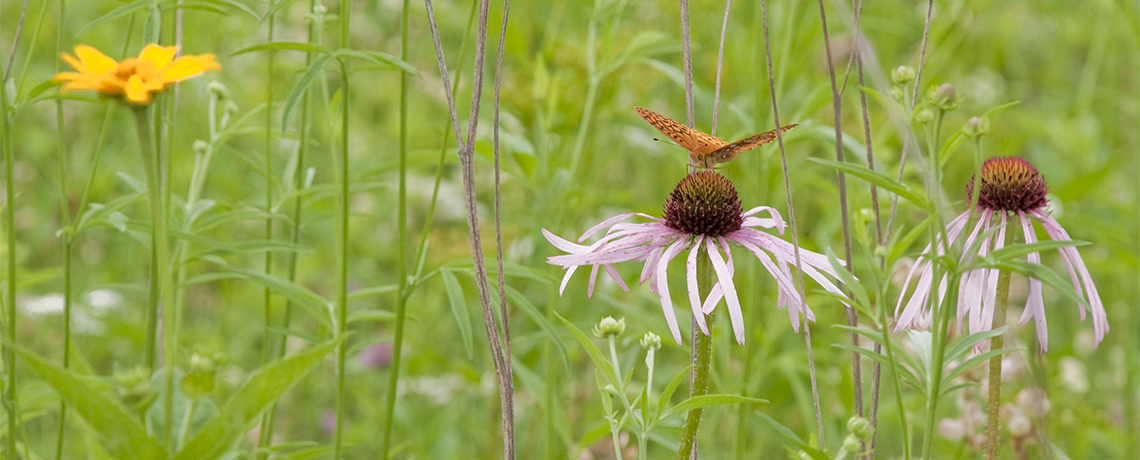 Donald County Park is located in Dane County just 15 miles southwest of Madison. It is situated south of Highway 92 between Mount Horeb and Mount Vernon. Donald Park is part of the Dane County Parks system.
Donald County Park's 781.5 acres of natural areas and rolling topography provide many opportunities for outdoor activities year-round. You will find a variety of habitats, including woods, pine groves, restored prairies, streams, natural springs, a pond and rock outcroppings.
Check out the History tab to learn how the park evolved, the different people who lived here and how each used the land.
Points of interest along the trails:
Pop's Knoll Entrance
Equestrian Entrance
Donald Rock
Larson's Pond
Prairie Restoration Areas
Pine Grove
Bluebird Houses
Apple Grove
Historic Foye Cabin Site
Big Spring
Mt. Vernon Creek
Oak Savanna
Poetry Trail
Lending Library
Sutter Drive Parking Lot
Pop's Knoll Entrance
This is the main entrance off of Hwy 92 between Mt. Horeb and Mt. Vernon.  Within a short distance from the parking lot, you will see Delma's Shelter and Pop's Knoll picnic area.  From there you can start your adventure into the park, via the trail system.  This area also features a bathroom, picnic tables and grills.  You can reserve Delma's Shelter for private events by contacting Dane County Parks.      On map – north of #1.
Equestrian Entrance
This entrance give access for equestrian visitors, including space to park horse trailers, hitching posts, handi-cap mounting block, picnic tables and a bathroom.  Donald County Park has one of the largest networks of equestrian trails in the Dane County Park System.  There are 3.5 miles of mult-use trails (equestrian, hiking, skiing, snowshoeing) throughout the park.  There are another 17.5 miles of horse trail easements on lands outside the park, both south of the park and to the north across Hwy 92.      On map – southeast of #5.
Donald Rock
Donald Rock, also known in the past as "Preachers Cap", is an erosion-resistant block of St. Peter Sandstone that became isolated as the softer sandstone around it eroded, after the continental seas retreated 450 million years ago.  The rock was an important landmark to native cultures, especially the Ho-Chunk, who visited the valley in pre-european settlement times and has continued to be a landmark for area residents for generations.  On map southeast of – #23.
Larson's Pond
This 3/4 acre pond is named after Harold Larson, who owned and cultivated the farmstead on which the pond is located until 1967, when he sold the property to the Hitchcock family.  Harold greatest joy in life was fishing.  Today the pond is a great place to watch frogs and other pond life while relaxing and enjoying the view of the prairie.   On map – #15.
Prairie Restoration Areas
Dane County Parks staff and The Friends of Donald Park volunteers have restored native prairies in several parts of the park, conducting periodic burns; seeding with over 100 native species including : Purple Coneflower, Spiderwort, Mountain Mint, Blackeyed Susan, Blazingstar, and Big Bluestem.  They also worked at removing invasives such as: Wild Parsnip, Sweet Clover, Multiflora Rose, Crown Vetch, and Queen Anne's Lace.  On map – #3, 4, 8, 10 loop & #12, 14, 15, 16, 17
Pine Grove
This 6.4 acre area includes a 65 year old stand of red and scotch pines, with a smaller group of white pines nearby.  The Pine Grove is a favorite place for the groups of local school children to rest, reflect and write poertry when they visit Donald County Park.
On map – #12
Bluebird Houses
Donald County Park is an excellent place to view Eastern Bluebirds as they fly through the prairies and nest in the nesting boxes provide by The Friends of Donald Park.  The birds usually arrive at the end of February and leave in flocks in Mid-September.  You can read more about the Bluebird Volunteer Group and their monitoring of the Bluebirds.  See Bluebird Trail Map.
Apple Grove
As you hike through the park you will notice many apple trees.  Delma Woodburn was very active in planting unique and hardy apple species when she lived on the land.  At this time we are doing research on the different species to record them and their history and find any Heirloom varieties that may be in the groves.  A great deal of work has been done by volunteers to clear out invasives in the apple grove by the Historic Foye Cabin Site.  On map – #3, 4.
Historic Little Spring Cabin Site
The foundation of the cabin near the Little Spring appears to date from the 1850's.  Township records indicate that the cabin burned down in the late 19th century .  Thanks to support from the Mt. Horeb Community Foundation and the work of The Friends of Donald Park volunteers, the cabin foundation, constructed of stacked limestone, was excavated and restored.  Archaeological investigations in 2008 and 2012 uncovered many artifacts that reveal much about those who lived and worked here. Interpretive panels help explain the site's history. Click on the link to read the full archaeological report and analysis of what was uncovered.  On map – #4.
Big Spring
The Big Spring is located just south of Mt. Vernon Creek, at the property line between Donald County Park and Department of Natural Resources land. Cold water from the spring feeds into Mt. Vernon Creek, providing an excellent habitat for fish. The Big Spring has been a popular spot for over one hundred years–at least one photo from the 1890s shows a large gathering of people enjoying an outing near its shores.  A 15 x 15 foot viewing platform allows visitors to look straight down and view this beautiful natural spring from the top.  On map between #4 & #5.
Mt. Vernon Creek
Fishing in Mt. Vernon Creek and smaller streams. Donald County Park is in the Sugar River watershed. Deer Creek flows through the Park from the west, while Fryes Feeder flows from the north. Where these two streams join, Mt. Vernon Creek begins, flowing in a southeasterly direction toward the Sugar River. Mt. Vernon Creek and its tributaries provide excellent trout fishing: Deer Creek and Fryes Feeder are Class 2 trout streams, while Mt Vernon Creek is a Class 2 trout stream where it traverses the Park, and includes brown, brook, and rainbow trout. Dane County Parks staff and volunteers have worked tirelessly to reduce sediment, maintain banks, and provide for trout habitat in these streams.  On map near #4 & #5.
Oak Savanna
Dane County Parks staff and The Friends of Donald Park volunteers have been working to restore oak savanna remnants in the park, removing invasive box elder and cherry trees along with conducting periodic burns to allow the remaining trees more room to grow.
Poetry Trail
During their seasonal visits to Donald County Park, local grade school students spend part of their day relaxing in the Pine Grove near Larson's Pond reflecting on nature and writing poems adorned with drawings. Later these poems are laminated and posted on the Poetry Trail for everyone to enjoy as they hike around the pond. Although the poems on the trail are changed each year, a notebook of ten years of poems is displayed at the "Bring Your Pop To Pop's Knoll" annual event each June. You can also visit the Lending Library by Larson's Pond and read a selection of poems from a notebook in the library. On map – #14, 12, 15 loop.
Lending Library
At Larsons's Pond there is a Lending Library for use as you visit the park. The library has identification guide books, poetry books, nature story books, and a poetry trail notebook all for you to borrow when you are at the park. Please return the books when you are done, so others may use them too. On map – south of #15 at Larson's Pond.
Sutter Drive Parking Lot
Just off of Hwy 92, onto Sutter Drive, you will find a small parking area. This will allow you to get closer to Larson's Pond, Poetry Trail, Lending Library and the trails on the far west side of the park trail system. No facilities here.
On map – north of #17.
Here are some links you may be interested in to help you learn more about the area and the organizations that support us:
Verona Area Chamber of Commerce
Mount Horeb Area Chamber of Commerce
Mount Horeb Community Foundation
Mount Horeb Area Historical Society
Madison Community Foundation
Town of Springdale