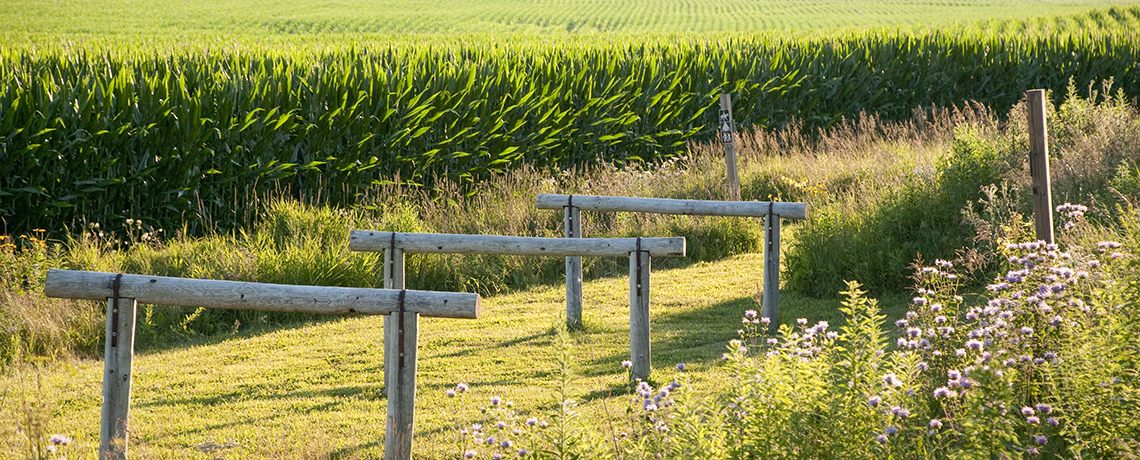 Donald County Park is located 15 miles Southwest of Madison, between Mount Vernon and Mount Horeb.
EQUESTRIAN ENTRANCE
8666 County Hwy G,  Mount Horeb, WI
Get Directions
The Pop's Knoll entrance on Highway 92 is a no-horse area, for passenger vehicles only.
At Equestrian Trail Head (on Multi-Use Trail) there is a large parking area for horse trailers, bathroom, kiosk, picnic tables, hitching post and handicapped mounting block.
Horse trails are open from May 1 thru October 31.
Trails are sometimes closed for various reasons. Please check the Dane County Parks website for current conditions.
Trail Tricks – 2014 Article
Trail Pass for Horseback Riding at Donald County Park
2024 Annual Horse Trail Pass – $25 ($15 for seniors 65+)
Each person who rides needs a trail pass.
Trail pass holders must be at least 16 years old.
Dane County Parks annual trail passes are available November 1st for 2024.  Visit the Dane County Parks website Permits Page to request your annual horse trail pass.
Trail pass is good for any other Dane County Parks with equestrian trails.
Download Equestrian Trail Map (for horse trails inside & outside of Donald County Park)
Download Trail Map (for all trails inside Donald County Park)
Multi-Use Trails are open for hiking, horseback riding, skiing and snowshoeing. There are 3.5 miles of Multi-use Trails in the park. There are an additional 17.5 miles of horse trail easements on lands outside of the park – both south of the park and to the north across Hwy 92, for horseback riding (Preachers Cap Trail & Devil's Chimney Trail).
Multi-Use Trails are marked with signs for horseback riding. Please stay on those trails. On the map, horse trails are marked with solid lines.
Trails inside the park are 10-feet-wide, two-way, multi-use trails (horses, hikers, NO bikes). Trails outside the park vary from 10 feet wide to smaller cut-off trails that are one-horse-wide, unimproved, natural trails.
Horse-drawn vehicles are allowed. Some trails are a little steep, so proceed with caution.
Volunteer
Contact Roger at (608) 832-4410 if you would like to help maintain our Multi-Use (horse) Trails by donating your time. We will be working several Saturdays during the season.
More Info
Wisconsin State Horse Council
Dairyland Driving Club
The Horse – Health Fact Sheet
Horse Trails & Campgrounds in Wisconsin